This dwelling is exclusive to the Golden Realms Expansion
| | |
| --- | --- |
| The Naga are an ancient race of powerful, reptilian creatures. They tend to hide in their swamps and only come out when provoked or hired in mercenary armies. Ruled by Matriarchs, they have a strictly organized society, so much so that the different roles and duties have started influencing their appearance. All Naga are strong melee fighters, with the slightly dimwitted Glutton the strongest of them all. The Matriarch possesses powerful magical abilities to control her subjects and neutralize enemy threats. | |
| ----The Tome of Wonders. | ' |
Naga Lair
[
]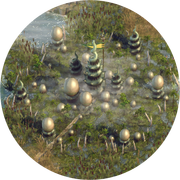 Naga Lair
Unlike many of the dwellings, the

Naga have units that fill similar roles to those of units from the regular races, such as

Infantry and

Pikeman. However, in addition to their greater strength than conventional units of these types, Naga have two distinctive features. Their ability to swim can confer a strategic advantage, but more important is their strong self-healing powers. Any opponent fighting Naga will want to ensure that they focus fire and finish off their targets quickly, since a Naga on the verge of death can bounce back quickly through

Slip Away and

Regrowth, and dispersed packets of minor damage (as the AI is inclined to dish out with ranged attacks in the opening round of a tactical battle) may be negated by Regrowth entirely. The Glutton is an exception, as it is too big to simply Slip Away and must feed on weaker units in order to heal - combined with its

Gas Breath, this makes the Glutton quite powerful against groups of lower-tier enemies, but less well suited to enemies closer to its own size.
Lacking ranged attacks of their own, the Naga breed Reed Serpents to fulfill this role, allowing non-Archdruids with a Naga Lair the opportunity to attempt to cultivate their own King Reed Serpents. As a melee-based

support unit, the Naga Matriarch can benefit from support upgrades from a variety of classes, allowing for a range of possible tactics. Between the

Taunt ability of Gluttons and the

Charm ability of Matriarchs, a well-developed Naga Lair offers multiple opportunities to seize control of troops from an opposing commander.
With generally good resistances and protection against

Blight and

Fire, Naga are generally more vulnerable to physical than non-physical attacks, although heavy
frost damage can also give them pause. This is particularly obvious in their top unit, the Glutton, with the unusual combination of a tier one-level

Defense attribute and a high

Resistance attribute. Combined with a high

health, this makes the Glutton extremely resilient against foes that rely on nonphysical damage types - however, a Glutton can be brought down quickly through a concerted effort by numerous conventional archers or strong melee troops, particularly if they make good use of flanking.
Buildings
[
]
Hatching Pool
Serpent Hall
Viper Fortress
Altar of the Great Mother
Requires:
Allows construction of:
---
Marsh of the Serpents
Reptilian Oracle
Produced units get +1 rank.
Dwelling gets +1 domain radius
Friendly units in domain get True Sight
---
Inherent Traits
[
]
All Naga have:
Producible Units
[
]
Baby Reed Serpent
'Baby Reed Serpents are a delicacy. The problem is, they are quite aggressive. They will swarm a man when they're desperate for food, so I take my brother along for the hunt. As they start biting him, I'm there with the club. I bash them on the head and catch them in a bucket. Mmm-mm! Good eatin!'
--Culinary Secrets of the Bayou Brothers, by Cletus Munkin

Unit: Baby Reed Serpent

Origin: Naga
Requires:
Hatching Pool
Tier I:
40

28

10

9

Cost: 50
Upkeep: 4
/

Can be summoned with

Summon Wild Animal (40

9
/

)
Abilities:
Melee Strike (

7

2

)
Poison Spit (

11

)
Experience Ranks:
---
Naga Slither
'Hidden in the colors of the marsh, horned serpents arose, silent as a shadow. Four arms, each clutching wicked curved blades, ready to ambush the hapless travelers. Foolishly, the thought to save five days of travel trespassing through Naga territory. I can only imagine this, of course, for I arrived five days later, unlike them, who never arrived.'
--Path Untaken, by Bradden Jezz, Ranger

Unit: Naga Slither

Origin: Naga
Requires:
Serpent Hall
Tier II:
48

28

10

11

Cost: 90
20
Upkeep: 8
/

Abilities:
Experience Ranks:
---
Naga Guardian
'Though our powers be limited, we will die to protect her. The Matriarch must be protected. If she survives, we all survive. If she dies, we all die. We are her arms. We wield the trident and strike down any who would strike at her.'
--Vow of the Naga, Ugglugglugg the Naga Guardian

Unit: Naga Guardian

Origin: Naga
Requires:
Viper Fortress
Tier II:
58

28

12

11

Cost: 90
20
Upkeep: 8
/

Abilities:
Experience Ranks:
---
Naga Matriarch
'I worshipped her, the mother-snake. Quick. Clever. Deceptive. Strangely Enticing. My Naga Matriarch embodied all these things. I served her with eager haste. She leeched the enchantments of rivals and cursed those condemned to death. Then one day, she let me wander and I knew this snake queen as the Deceiver.'
--Servitude, by Sir Randall the Severely Chastened

Unit: Naga Matriarch

Origin: Naga
Requires:
Altar of the Great Mother
Tier III:
62

28

10

13

Cost: 140
60
Upkeep: 16
/

Abilities:
Experience Ranks:
+1 Melee +6 +1 , Minor Bard Skills
+1 Melee +12 +1 , Call Lightning (

18

)
---
Mature Reed Serpent
'I personally prefer to eating the Mature Reed Serpent. The flesh is still tender, and you can get a man-sized chunk of solid meat from them. There's just something to be said for a slab of meat that can't be eaten in just one meal. And unlike the King Serpent, the hunters have a much better chance of surviving the hunt.'
--Culinary Secrets of the Bayou Brothers, by Cletus Munkin
Unit: Mature Reed Serpent

Origin: Naga
Requires:
Marsh of the Serpents
Tier III:
65

32

13

10

Cost: 170
Upkeep: 16
/

Can be summoned with

Summon Gargantuan Animal (160

28
/

)Evolves From: Baby Reed Serpent
Abilities:
Melee Strike (

11

5

)
Poison Spit (

13

)
Experience Ranks:
---
Glutton
'While seeking Naga secrets, we discovered what surely must be their god. The fearsome fiend rose like an island, its mouth a cavern. Horses and riders disappeared into the monster's quivering gullet. Our blows bounced from mountains of blubber as it gobbled up my hunting party. The Naga were so grateful we fed their god, they let me live to tell the tale.'
--Peril in the Tropics, by Ham the Wanderer

Unit: Glutton

Origin: Naga
Requires:
Marsh of the Serpents
Tier IV:
120

28

8

15

Cost: 300
60
Upkeep: 32
/

Abilities:
Melee Strike (

24

)
Gas Breath (

20

)
Experience Ranks:
---